Music in the American Diasporic Wedding by Inna Naroditskaya, ML3551.9 .M87 2019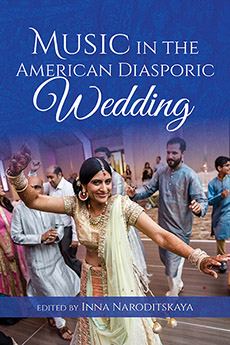 What does it mean to be an immigrant? To be American? To be both? You might not expect on first instinct to explore these questions when perusing the New Book Shelf in Mendel, but they arise nonetheless in the complex, ethnomusicological novel, Music in the American Diasporic Wedding.
Distances between countries seem to shrink by the second as travel and technology becomes more sophisticated; what was once an insurmountable journey across the ocean has now become a summer vacation, an annual retreat, a second home. The definition of American has also changed rapidly in the past century, expanding and transforming into the multiethnic diaspora that it is today. Music in the American Diasporic Wedding examines the issue of compromise and negotiation: when two different cultures come together, what makes it into the wedding?
This book is a collection of essays that feature contributors with a tapestry of cultural fusions, from "klezmer-tinged Mandarin Tunes at a Jewish and Taiwanese American wedding" to "Puerto Rican cultural activists dancing down the aisles […] to the thunder of drums and maracas and rapping their marriage vows." Edited by Inna Nadoritskaya, this collection highlights the importance of music in identity, and creating multiethic, intersectional identities filled to the brim with color, culture, and sounds.
One of my personal favorite essays from the book is Soulful Same-Sex Wedding, Aretha Franklin, Love, and the Politics of (Un)Freedom by Professor Nina C. Ohman at the University of Pennsylvania. The essay reviews Aretha Franklin's landmark performance at the Bill White and Bryan Eure wedding, one of many same-sex marriages that would occur in the months following the passing of New York's same-sex marriage bill on June 24, 2011. The essay contends with important issues of sexuality, race, and music, and brings to light the true gravity of that performance in relation to the LGBTQ+ movement. If you're interested in music as it relates to justice, culture, and weddings, this essay is a must read.
Music in the American Diasporic Wedding just recently entered our collection here at Mendel on September 6th. Come check it out and more books like it on your next stop through Woolworth!